Changing the Mitsubishi LVP SA51UX projector lamp
How to install a replacement Mitsubishi LVP SA51UX projector lamp
The best investment you can make is to invest in an authentic Mitsubishi LVP SA51UX projector lamp. Knock-off counterfeit lamps have a shorter lamp life and have been created with toxic substitutes and are prone to explosions that s often damage the sensitive electronics in your projectors. Invest in authentic. This Mitsubishi LVP SA51UX projector uses the Mitsubishi VLT-PX1LP model.
Buy this lamp on Amazon from the following retailers:
Warning
The Mitsubishi LVP SA51UX projector lamp has a lamp life of approximately 2,000 hours. End of lamp life indicators include a decreases in luminescence and/or color brightness. At 1500 hours, the indicator will flash alternately between green and red. When the lamp has been used for close to 1,900 hours, a message "LAMP!!." appears on the screen for one minute. When the lamp has reached about 2,000 hours, the projector will automati-
cally shut off for safety and the power indicator light will be red. The lamp must be replaced immediately.
Replacing the projector lamp
Before replacing the projector lamp, please follow these safety precautions.
Reduce the risk of electrical shock by disconnecting the power cord on the Mitsubishi LVP SA51UX projector.
Reduce the risk of severe burns by allowing the projector to cool for at least 45 minutes. It should be cool to the touch.
Reverse the projector gently and place it on a soft surface.
Loosen the screws of the lamp lid to remove the lid.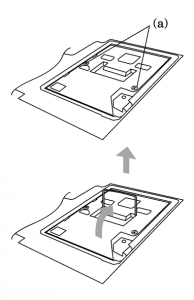 Remove the lamp cover in the direction of the arrow as indicated. Loosen the two screws on the
Mitsubishi VLT-PX1LP
 lamps (a). Pull up the handle.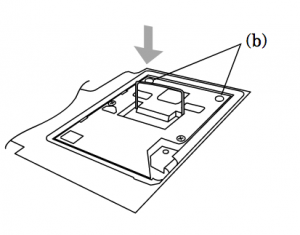 Insert the new
Mitsubishi VLT-PX1
projector lamp securely into the
Mitsubishi LVP SA51UX projector
in the right direction.
• Make sure the two section of the lamp are properly positioned into the proper holes before inserting the lamp (b).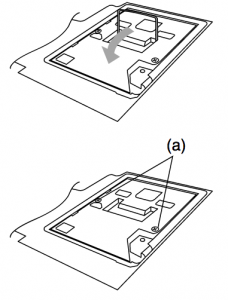 Put the handle back to the holding point making sure the  handle is locked.
Tighten up the screws (a) using a phillips screwdriver (+).
Put the lamp lid back onto the Mitsubishi LVP SA51UX projector Tighten up the screws of the lamp lid using
Resetting the Lamp Hour Timer
It's important to only reset the lamp timer when the Mitsubishi LVP SA51UX lamp has been replaced. Resetting the projector lamp timer without changing the lamp can make it work beyond its recommended hours and cause harm to your projector.
To reset the lamp operation time
Plug in the power cord
Reset the lamp operation time by holding down the ARROW key and the POWER button on the control panel at the same time.
Make sure that the STATUS indicator blinks twice and the lamp operation time is reset successfully.
IMPORTANT: Unless these three buttons are pressed at the same time, the lamp operation time isn't reset.
Extending the life of the projector lamp: