RCA HD50LPW52 DLP TV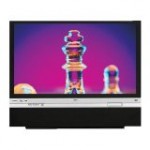 RCA's HD50LPW52 is 50" (diagonal) 16×9 DLP HDTV with the w/DCR and integrated ATSC tuner.
This Thomson television gives a picture in 16.7 Million colors that means twice the contrast of other television technology. Similar to other RCA TVs it has Digital Cable ready with integrated High definition tuner and off air HD Tuner. It is also provided with proprietary DLP Video Bit Sequences and SRS focus Audio technology.
Features of HD50LPW52:
Screen size of about 50"
Resolution 1280×720
Light smooth, DLP light engine
Aspect ratio of 16:9
Displayable colors 16.7 million colors
Provided with Anti Reflective filter.
Color system: ATSC, NTSC.
Formats: 480i, 480p, 720p, 1080i
HD50LPW52 has bezel black color with the dimension 119.1cmx99.6cmx40.5cm. It weighs up to 38.6 kg. It is available with 1 year warranty. With some additional features such as V-chip, closed captioning and picture in picture facility. There are number of features in it, which makes it beneficial they are discussed bellow:
Latest DLP technology balancing with RCA scenerium proprietary bit sequence generates incredibly clear pictures that are nothing short of stunning.
Delivers cable ready HD with cable card slot. HD reception with digital high definition broadcast without need for separate ATSC.
Optimized picture performance by synchronizing advanced signal processing display technologies.
Gives lifelike audio performance by increased sound level.
Reduces color artifacts and improves picture performance.
Allows both digital video and audio from external high definition devices.
It separates signal into separate components eliminating dots and edges crawl.